Why HOLL OSR oil is a Better Option
28-Apr-2016

....It has more than 75% of oleic acid (Fig. 3)
....Even with significantly reduced linolenic acid content, which leads to a better frying performance, HOLL OSR oil still has a good content of Omega 3 (> 0,6g alpha-linolenic acid per 100g and per 100kcal2), and contains a goodamount of Omega 6 (linoleic acid).
Recent studies suggest that higher linoleic acid (Omega 6) intake is associated with lower risk of coronary heart disease in a dose–response manner (Farvid 20144), and that increased intake of linoleic acid may lower risk of total and cardiovascular disease mortality in generally healthy older adults (Wu 20145).
.... It has one of the lowest level of saturated fats compared to most vegetable oils (Fig. 3), providing a good option to reduce the daily intake of these "bad fats".
....It has only trace amounts of trans fats.
....It has a good natural vitamin E content (FEDIOL9).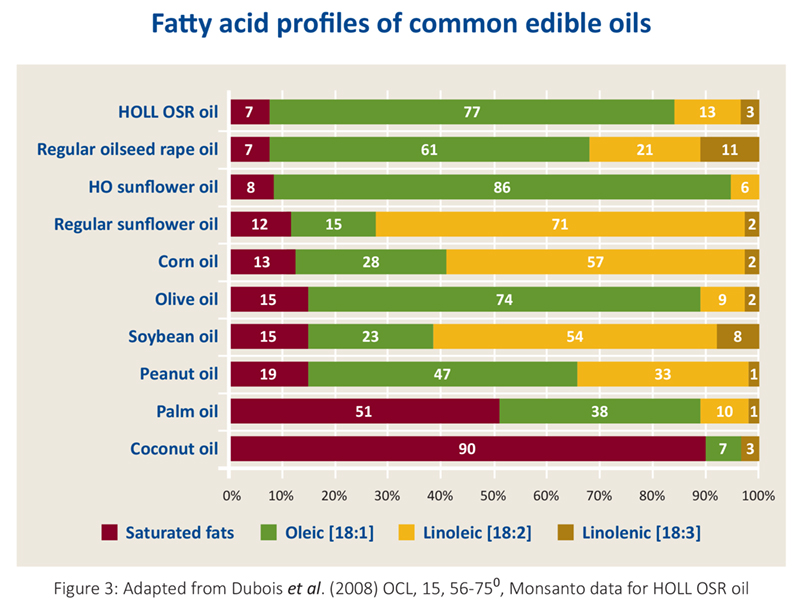 HOLL OSR oil is one of the options which combines the lowest levels of saturated fats with a substantial level of oleic acid.